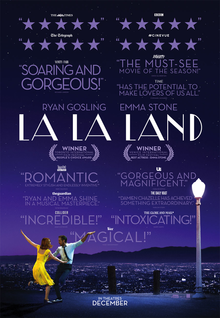 This is probably the hottest film on the awards circuit right down due to its sweeping of the Golden Globe awards but it has been on my list ever since it made waves at the usual film festivals. My wife has been especially enthusiastic about it as it is both a romantic film and a musical.
It's Los Angeles and Mia is aspiring actress who, like all aspiring actresses, currently works as a barista in between auditions. Sebastian is a jazz pianist who bounces between gigs because he only wants to play pure jazz and dreams of opening his own club. They first meet when Mia is attracted to an improvised snippet of music that Sebastian plays in a restaurant but he brushes her off. After they encounter each other at a party again, they get to talking about jazz and old movies and become a couple. When Mia still fails to get any roles, she writes a one-man play to perform in herself with Sebastian's encouragement. Meanwhile he receives an offer of joining a band started by an old classmate. He's inclined to demur as he knows that his friend plays a more modern style of jazz that he dislikes but he accepts after becoming convinced that settling down to make money is a sign of maturity. The band is an unexpected success while Mia's play is a failure, driving the couple apart.
We've seen director Damien Chazelle's work before in Whiplash and loved it. As a film about two artists who are pursuing their dreams, La La Land has obvious thematic similarities to that previous work but is a fair bit lighter in tone. Here, instead of sacrificing themselves in the pursuit of their craft, they sacrifice each other. It's not a particularly original premise but it makes for great grist for a romance. Combined with the fact that this is a musical that unashamedly plumbs the rich history of Hollywood for its full nostalgia value and it's no wonder that this is the current darling of the awards circuit. It doesn't hurt that the productions values here are sky high. The songs are perfect. That neither Emma Stone nor Ryan Gosling are professional singers nor dancers only makes the film feel more authentic. All in all, this is a supremely crowd pleasing film and a remarkable achievement for a director who is only 31 years old. It's also notable that the primary person responsible for the music, Justin Hurwitz, was Chazelle's roommate in university.
Even so the film does come close to being overly sweet at times and the more cynical side of me wants to point out that both of them do succeed in achieving their dreams at the end. A much more realistic take on the frustrated aspirations of artists would be Inside Llewyn Davis though it is of course far too bitter for a mainstream audience. For all of their lamentations, nothing truly bad occurs to the characters in this film and you're primed not to expect any. One of Chazelle's main influences was Jacques Demy. The tone, dancing and colors of The Young Girls of Rochefort is obvious here but there are also parallels with the love story of The Umbrellas of Cherbourg. Even here I think the sense of loss in the older film is more poignant because the version here is just too glamorous.
All in all, La La Land is very much a Hollywood film, consciously so even. Yet it is the good kind of Hollywood, the kind that knows how to create a grand spectacle, how to get the audience laughing, how to wring out some tears while still being a safe film and so on. In short, it might not be a terribly deep film but it's a fantastic one all the same.