How to be an Ex-Masturbator
Friday, February 6, 2009 13:44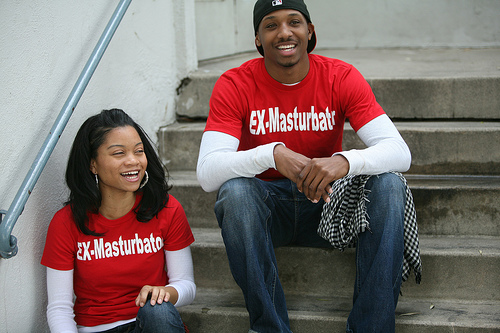 This is just too awesome for words. Quoted from the page:
When God wants to take His message of deliverance across the globe, there is NO stopping Him.  Check out this feature of the EX Shirts on one of the fastest growing Christian Hip Hop magazines in the US: www.DaSouth.com. Also, hit up their new article, "Masturbation" It breaks down the lies behind masturbation, explains how this is actually a sin, and how we can be freed through Christ.

And if you need even more encouragement, check out ya girl Dameco's latest blog entry, in which she fearlessly testifies to her struggle and victory over masturbation!

We pray that you will join us in breaking the silence on an issue that has stayed silent for too long. Be the first to boldly rock your Ex-Masturbator shirt and let's change the world baby! Click below on one of the pictures to order your shirt.
My problem is that I can never tell if campaigns like this are serious or a deliberate attempt at humour. I know, I know, I'm a sick, sick person.
You can follow any responses to this entry through the
RSS 2.0
feed.
4 Responses to "How to be an Ex-Masturbator"

Leave a Reply