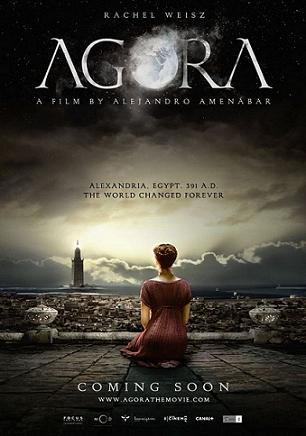 Any review that I could possibly write about this film must pale in comparison to Gordon Cameron's excellent post on his blog Picture's Up, so I'll just link it. Some observations of my own:
The characterization and pacing feel a bit off. The slave Davus' conflicted loyalties don't seem very convincing at all. He clearly adores Hypatia and has a talent for science, but is attracted towards the egalitarianism of Christianity. But how does that drive him to bloodlust? He just seems far too enthusiastic about the sacking of the library than the situation warrants.
Similarly the flash forward to several years later feels clumsy. Suddenly we see that Orestes, who was happy to grab a sword to kill Christians, is now the Prefect and has been baptized himself. It would have been more believable if the film had previously established him as being ambitious and willing to go along with the tide for political gain. As it stands, it's odd how he seems to think of himself as a genuine Christian even in private.
My wife totally caught how the filmmakers had chosen to garb the Christians in black robes and generally look and act like the stereotypical Muslim terrorists of our time. This is something that Marginal Revolution picked up on this too.
Some reviewers have claimed that the film is a condemnation of all fundamentalism rather than Christianity specifically but I can't think of a single sympathetic Christian in the film. At least the Pagans were shown to respect knowledge and seem generally more civilized and orderly, even if they started the violence first. Plus, of course, even Hypatia clearly thought that owning slaves was perfectly normal. But the Christians are just a hateful bunch throughout. Even when Davus is handing out bread at the church, the beggars look like greedy locusts who eagerly take whatever is offered and eat it without so much as a word of thanks or a moment of appreciation. Then there's Davus' questioning of whether the Christians should consider forgiving their enemies and the rebuke he gets in response.
My wife says that Synesius is totally evil at the end and I agree. His brand of evil is certainly more scary than that of Cyril. The latter is just the typical religious demagogue. It's not even clear that Cyril is passionate about Christ. He just seems interested in power. Synesius however seems to genuinely think of himself as being a good friend to both Orestes and Hypatia, and believes that wholehearted acceptance of Christ is what's best for them, regardless of what they actually want or believe in. He's scary because there's no reasoning with him. Cyril at least could probably be cowed with sufficient application of temporal power.
Gordon Cameron thinks that the truest emotion the film evokes is frustration about how easily such valuable progress in human knowledge can be lost. While the film tries to play up that angle, especially obvious with the scenes of Hypatia and her colleagues desperately trying to save as many priceless manuscripts as they can before the mob, I don't think this is what really rings out to me. After all, Hypatia didn't seem to work very hard to ensure that her own insights would be recorded for posterity. Instead, the strongest emotional reaction I had was the fearful power of mob rule and how it utterly ignores reason and facts. The frustration that I felt was not so much the loss of knowledge but the downfall of civilization and the end of what seemed to be peaceful and orderly lives for so many.
Anyway I'm glad I watched this film but then as I'm one of those militant atheist types. Setting this aside, I don't think I could say that this is a very good film. It's a good subject matter and it's shot beautifully enough but it's too handles too many things too awkwardly. It does make for a wonderful film to troll Christians with, if I could ever convince one to watch it with me.