Avengers
Friday, May 11, 2012 13:00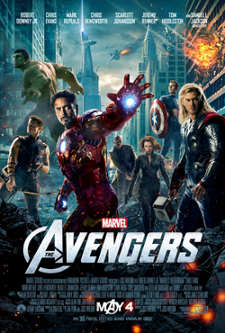 About four years ago, I wrote about this being the golden age of superhero films. I can now say with confidence that the golden age has reached its zenith with The Avengers. Yes, other films like Christopher Nolan's Batman series and Watchmen have shown that superhero films don't necessarily have to be mere action movies, they can aspire to be something more. But it's obvious that with modern film-making techniques that allow anything at all that we can imagine to be put onscreen, action films and the superhero genre are a match made in heaven. And as Davin Arul of The Star has commented, it's hard to imagine a more perfect superhero action film that this.
All this of course is down to the extraordinary talent of Joss Whedon who both wrote and directed The Avengers. I skipped Buffy the Vampire Slayer but I'm a big fan of Firefly so it's incredibly gratifying to have Whedon work on this project. Whedon is a natural fit for this film not only because he's a comics writer himself but also because he excels at working with an ensemble of interesting characters. Here's a quick run-down on why this is such a great action film (let's hope you've already seen this because it will be kind of spoilery):
Despite having an ensemble cast, Whedon manages to squeeze in enough screentime for each of them so that by the end of the movie, we genuinely feel that we know them. My wife says that Hawkeye gets short shrift here but having him spend a big chunk of time in evil mode sort of compensates for that. It's uncanny how well he knows the characters and how to put each of them to good use. After her terrible performance in Iron Man 2, I wouldn't have believed that it was possible to make Scarlett Johansson's Black Widow interesting, but Whedon pulls it off.
The snappy humor in the movie for the most part strikes just the right balance between cleverness and snark. Captain America's "There's only one God, ma'am, but he probably doesn't dress like that," sounds funny and because it highlights both Cap's traditional Christianity and his tendency to fall back to old-fashioned terms ("ma'am") strikes one as just the sort of thing Cap would say. Thor's "He's adopted" retort draws chortles but doesn't really sound like something an Asgardian with his gravitas would come up with on the fly.
The humor avoids being juvenile. My wife and I watched this at the Seremban 2 mall and we had lunch at a Manhattan Fish Market just before the movie. It just so happened that the restaurant was showing the second Fantastic Four movie. That makes for a great counter-example of how not to do humor. Mr. Fantastic can't find an empty space in the overhead compartment of the plane he's flying, so he surreptitiously stretches his arms to snag one out from under a confused fellow traveler. The Human Torch (played by Chris Evans, the same actor as Cap even!) is reluctant to flame on because that would ruin his Dior. These gags are childish, uncreative and feel completely out of character and inappropriate to the situation.
The action is superbly directed. Each hero does a different thing but we can always tell who's doing what and what's going on. I could barely tell an Autobot from a Decepticon in Michael Bay's Transformers, let alone what they were doing. Part of it of course is due to the extensive CGI work involved (one CGI production company apparently did nothing but animate all the fires used in the movie!) but I can't help but credit most of it to Whedon knowing exactly what each hero would do in a fight and picking scenes that best show that off.
The Avengers actually fight as a team! Too many action movies involving a group devolve to each team member taking on their evil counterpart  in a series of one-on-one fights. That doesn't happen here. Cap provides leadership and coordinates with the non-superheros to rescue and evacuate civilians. Thor and the Hulk work together to bring down the biggest baddies. Hawkeye plays sniper and calls in targets for the others. It's just so very, very satisfying to have a director get all that right.
The superheros aren't invulnerable and there are stakes involved. I love how Johansson's Black Widow knows she's in over her head and her face shows it ("You're a spy, not a soldier.") but tries to find ways to contribute any way she can anyway. Captain America misses a shield block and gets injured. Iron Man falls low on power and munitions and Hawkeye runs out of arrows. Yes, individually the aliens are trivial mooks for our heroes but there are just so very many of them and the audience can tell that the heroes are getting more exhausted over time. Even the Hulk seems to having trouble as the aliens wise up and start to focus fire on him.
Every one of the Marvel Universe films has been chock full of fan service references, but every one of those threads tie in together here so it's so gratifying for someone who has read all the comics. The blue gem on Loki's scepter is of course the Mind Gem of the six Infinity Gems. The first post-credits bonus scene reveals Thanos, lover of Death and wielder of the Infinity Gauntlet which grants true omnipotence.  No wonder the comics fans community exploded in a collective nerdgasm the moment this movie opened?
Finally, despite being the only actor not to have appeared in any of these Marvel Universe films before, Mark Ruffalo's Hulk totally stole the show. He is easily the best Hulk ever put on screen, which is incredible given that I really liked Edward Norton too. His fidgety, self-deprecating Bruce Banner captures the essence of the character far better than Norton who in retrospect now seems too self-possessed and in control. Better yet than the Hulk's face is also Ruffalo's face through the magic of CGI, so that when the Hulk smirks or sneers, it's all Ruffalo.
The film has apparently made a billion US dollars in a week which is great news for folks like me who want more films like this. Hey DC, step up your game. Where's your Justice League movie? All of a sudden projects like Avengers vs. X-Men and even Avengers vs. JLA seem not so impossible after all. Tomorrow's post: the one thing that the film did not get right.
You can follow any responses to this entry through the
RSS 2.0
feed.