Midnight Riot
Tuesday, June 5, 2012 18:17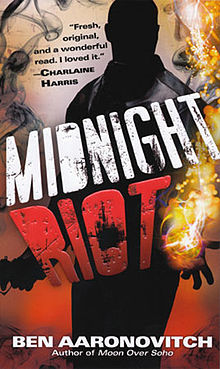 Midnight Riot is a book that I picked up as light reading from book recommendation threads on QT3 and Broken Forum. I had some trouble finding information about it on the net and later discovered that this is because it was originally published as Rivers of London is the UK but its US publishers chose the title Midnight Riot, probably because the original name sounded like a boring treatise on British geography. The Americans also changed its cover, creating controversy by choosing to depict the lead character in silhouette. The critics claimed that this was to hide the fact that the protagonist is of mixed race, which would supposedly turn off would-be buyers.
Anyway the book's back blurb describes it accurately as what would happen if Harry Potter grew up and became a policeman in the UK. Peter Grant, a young constable who has just completed his probation, seems set on a boring career of pushing paper at the Case Progression Unit, when a chance event alters the course of his life. He is standing guard at the scene of a seemingly random act of murder when an eyewitness comes up to him with critical information. The witness turns out to be a ghost, the uncanny nature of the case gets it referred to Detective Chief Inspector Thomas Nightingale, who is the sole member of the London's Metropolitan Police to specialize in magical crimes, and Grant becomes the first officially sanctioned wizard's apprentice in Britain in 50 years.
This book is the author Ben Aaronovitch first novel based on original IP. He'd previously penned scripts for television shows like Doctor Who and has written several tv tie-in novels. Perhaps that's one reason why this novel has a very lightweight, young adult-like feel. Much like Neil Gaiman's American Gods, this is a world in which the mundane and the otherworldly coexist. Godlike entities, in this case most notably the personifications of the Thames River and its tributaries (hence the original title) and monsters mingle in the streets with mortals and subtly affect their lives.
However while Gaiman uses lyrical prose to inject his setting with a dream-like quality, Aaronovitch's writing is plain and straightforward. The protagonist reacts to the fantastical events around him in a subdued manner with wry humor and a British stiff upper lip. I have to say that this bends suspension of disbelief almost to the breaking point. His witty wisecracks may work in a television show but seem incongruous in a book with such serious events. This is after all a book which has the murderer literally knocking off their victims' heads with a bat, complete with all the blood and gore that entails. It's hard to tell when the lighthearted humor stops and the horror begins.
On the other hand, there is something very appealing about an Internet nerd writing a story like this and Aaronovich is undoubtedly an Internet nerd. The novel displays genre savvy and is chockful of references to popular culture. Have you ever felt frustrated when, for example, the characters in a zombie story seem to exist in a world without any zombie fiction and consequently don't react to zombies in the way that we would because we've all watched Dawn of the Dead and The Walking Dead? Well there's no chance of that here. There must be at least half a dozen references to Harry Potter alone (how come we don't have a Ministry of Magic in our world one character all but asks) Other references include the obvious ones to Lovecraftian Mythos and for fun, even The Girl with the Dragon Tattoo. I half expected a direct reference to American Gods in there, which would have made the book very meta indeed.
Just as any self-respecting gamer would, Peter Grant (who admits that he actually installs wired broadband in the ancient home of British wizardry to watch football and play games) doesn't take his magical instruction at face value and tries all sort of experiments to understand its rules. Also fun to read are all the convincing details of how the police in the UK work. I'm not a fan of police procedurals (I don't even watch CSI!) but I can tell that such fiction lives and dies by how much verisimilitude they successfully convey and I can tell you that in that regard Midnight Riot is a very well-researched novel indeed. Equally impressive is the research on the geography of London and its rivers, which is a key part of the plot, and the local folklore.
Overall while this novel is too clumsy in execution and isn't innovative enough to mark its author down as a Big Name to watch, it's a fun enough read which happened to be just what I was looking for. It's not great literature and you might feel slightly guilty for enjoying it but it is entertaining and certainly worth your time. I'm not rushing out immediately to buy the sequel but it's been a fun enough ride that I'm sure I'll get around to it one of these days.
You can follow any responses to this entry through the
RSS 2.0
feed.