Man cannot survive except by gaining knowledge, and reason is his only means to gain it. Reason is the faculty that perceives, identifies and integrates the material provided by his senses. The task of his senses is to give him the evidence of existence, but the task of identifying it belongs to his reason, his senses tell him only that something is, but what it is must be learned by his mind.
– Ayn Rand in Atlas Shrugged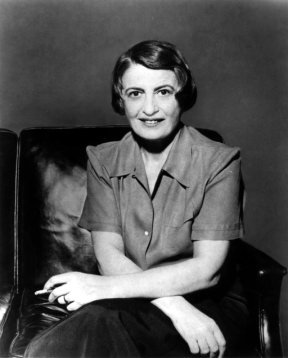 [This is part 1 of a planned 3 part series on the philosophy of Ayn Rand and its influence on my life. This first part serves as an introduction to Ayn Rand and her philosophy and the context within which I first learned of her work.]
Like religious belief, the late Ayn Rand is not a subject for polite conversation. She evokes such extremes of emotion in those who know of her that it's almost impossible to have any rational discussion about her or the philosophical movement she inspired. Coupled with the fact that Ayn Rand's ideas have had an immeasurably profound influence on me, this makes the present essay the most intensely personal and hence most difficult to write of anything in the entire site thus far.