As for every human born since the Stone Age, as for the ancestors of every member of the Amalgam, there was nothing the universe was capable of doing that the Arkdwellers were not capable of comprehending. They were not mere clever-looking animals, with some hard-wired repertoire of impressive but inextensible skills. With sufficient motivation and freedom from distractions – and perhaps a modest boost in longevity – they could have grasped anything. Apart from the subjectivities of art or language, where everyone needed tweaking to cross the species barriers, there was nothing in the Amalgam's million-year-old storehouse of knowledge that would have been beyond their reach. That was the ability, the potential in every one of them. There was, however, no drive to realize it: no curiosity, no joy in discovery, no restlessness, no dissatisfaction.
– Greg Egan in Incandescence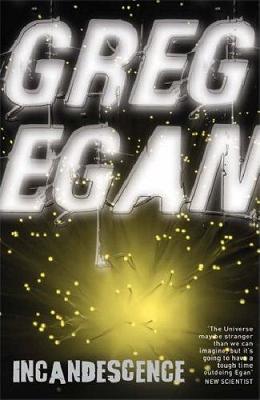 (After thinking about it for a while, I've decided to write a discussion of the novel rather than a review. There are already plenty of reviews on it available on the net, most of them probably better than anything I would be able to come up with. For a favourable review, check this out. For a dissenting opinion, read this and maybe Egan's rather fierce rebuttal to same.)
Cracking open a new Greg Egan novel is always a momentous occasion for me and since Incandescence is the author's first new novel in six years, you can imagine how great the anticipation must have been. At the end of it however, I'm left with mixed feelings. On the one hand, I can recognize the tremendous amount of work that must have gone into it and on a purely intellectual level, can't help but be impressed by it. On the other hand, with not much to go on in the way of plot or characters, I had a hard time being emotionally engaged in the book. In that sense, it may be a work of fiction, but it's more of an extended thought experiment than a novel.