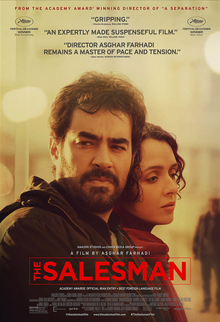 Asghar Farhadi remains, in my opinion, one of the best currently active directors when it comes to the pure drama of everyday life, and I was immensely pleased that The Salesman duly won the Academy Award for Best Foreign Film. I had not of course watched it yet but regarded the award as an American acknowledgement of his career to date so when I learned that it would be shown in cinemas here in Malaysia made sure to watch it there as a show of support.
Due to their apartment building being declared unsafe, the married couple Emad and Rana are forced to leave and look for new lodgings. Emad's day job is a literature professor but by night the two of them are actors in a theater, currently performing in a production of Arthur Miller's Death of a Salesman. Another actor offers them an apartment he owns and they soon move in even though it is still filled with the possessions of the previous tenant, a woman. One evening the two return home separately. Rana is about to bath when someone buzzes the intercom and she unlocks the door thinking that it is Emad. When Emad arrives he discovers that Rana has been attacked and that the neighbors have rushed her to the hospital. The exact circumstances and nature of the assault are left ambiguous. Rana is traumatized by the experienced and wishes to avoid reporting it to the police or letting anyone know about it. Emad becomes frustrated with Rana's sporadic panic attacks and seems determined to learn the identity of the person who attacked her.
It's evident that the play by Miller is meant to have special meaning in this film as scenes from their production of it is interspersed throughout. Unfortunately as I've neither watched nor read it, that meaning is lost to me. I did check out a summary of it on Wikipedia but I was left further confused as the shared themes that I can notice applies only to the character who actually assaulted Rana and his identity is revealed at the very end of the film. In fact most of the film seems rather conventional to me and somewhat tangential to what the film is really going for. Sexual assault and how men and women deal with it in different ways isn't exactly a new topic even if this is some novelty and courage here as an Iranian film. The final confrontation is indeed exceptional, resonant with the mixed emotions that often suffuse the works of this director. But the rest of the film feels merely like building up to it. It has nothing like the elegance of the previous films which felt like many complex, interlocking parts meshing together into a beautiful whole.
This is still a more than solid film. Farhadi has a real knack for wringing the best performances out of his actors and lead actress Taraneh Alidoosti is stunningly beautiful. I also appreciated the many ways in which this film is different from what we commonly encounter merely by dint of being Iranian. For example, no one ever mentions sexual assault but we all understand that this is what must have happened. At one point their play calls for a naked prostitute. On stage she is played by an actress in a thick coat and the actor who must perform opposite her can't help but laugh at the incongruity. Perhaps if I were more familiar with the Miller play, I would rate it more highly, but an average Farhadi film remains an excellent one by most standards.