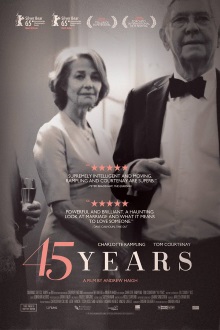 Lead actress Charlotte Rampling has had an illustrious career but I doubt most audience members would know her. My wife managed to recognize her from Swimming Pool, a film we watched more than 10 years ago but I couldn't place her. Just odd how memory works sometimes. Here she appears in a small, unassuming British film that appeared at the top of some of the year's best lists a year ago.
Kate and Geoff Mercer are planning to celebrate the 45th anniversary of their marriage when Geoff receives a surprising letter. Climate change has caused a glacier in Switzerland to melt, exposing the corpse of Katya, Geoff's girlfriend during the 1960s. It turns out that they were hiking there at the time when she accidentally fell and he was very much in love with her. Over the next few days, Kate becomes increasingly disquieted as she notices Geoff's changed behavior and realizes the depth of his feelings for Katya. He retreats to the attic in the night to pick through mementoes of their time together and considers travelling to Switzerland to see the corpse which he imagines must be perfectly preserved while he is now decrepit. Despite the length of their marriage, virtually a whole lifetime spent together, Kate begins to doubt how much of their love was ever real.
As a film about old people, 45 Years is quiet and unexciting. As Geoff states, even going to town is a bit of an adventure for him these days. Even as her despair grows, Kate doesn't engage in histrionics, becoming instead contemplative as she asks herself how much of their relationship comes down to Geoff seeing her as a poor replacement for Katya. She notices that they have similar hair colors and of course even their names are similar. This is a film about wise adults coping with distress in a mature manner, something that you don't often see. There's a weightiness and gravitas here that underscores every emotional moment, all of it visually represented by the repeated scenes of Kate walking her dog amidst the fog-drenched moors. The landscape and even the weather are as much stars in this film as the excellent performers. I very much enjoyed how very English this film looks and feels.
One interesting thing that the film does is its use of one song in particular, Smoke Gets in Your Eyes by The Platters. It's so familiar that I doubt there's anyone reading this who can't recite the lyrics. Yet because it's so familiar, we've long ago stopped to pay attention to the lyrics and think about what it actually says. An important plot point in this film hinges on doing just that, just as Kate does in the film, and I'm sorry to say that I had to have this pointed out to me before I realized I needed to listen to the lyrics and understand how they apply to the film. It really is kind of a fascinating phenomenon though I think director Andrew Haigh should have done something to draw the audience's attention to the lyrics.
All told this is solid, thoughtfully-made film about the marital troubles and emotional turmoil of elderly people. It isn't quite outstanding enough to be one my favorites and it's easily good enough to earn a recommendation.