Now, I have long been nonplussed by Isaac's Alchemical research, but as years have gone by I have perceived that he would achieve a similar triumph by finding a single common underlying explanation for phænomena that we think of as diverse, and unrelated: free will, God's presence in the Universe, miracles, and the transmutation of chymical elements. Counched in the willfully obscure jargon of the Alchemists, this cause, or principle, or whatever one wants to call it, is known as the Philosopher's Stone, or other terms such as the Philosophic Mercury, the Vital Agent, the Latent or Subtile Spirit, the Secret Fire, the Material Soul of Matter, the Invisible Habitant, the Body of Light, the Seed, the Seminal Virtue.
– Neal Stephenson in The System of the World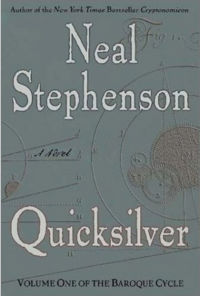 For a book written by Neal Stephenson, I had a hard time getting into Quicksilver, the first book of his Baroque Cycle. This is astonishing because of how much I enjoyed and how quickly I devoured his earlier books, Snow Crash and The Diamond Age. Quicksilver and its subsequent volumes The Confusion and The System of the World, appear at first glance to be a different beast entirely. For one thing, the events chronicled in the novel take place from roughly the middle of the 17th century to the beginning of the 18th century. For another, real historical figures from the period in question play a central role in the story and while most of the exploits described in the novel are fictional, they are skillfully interleaved with real historical events. For these reasons, ever since the publication of the first volume, debate has raged amongst fans and readers on whether or not it even constitutes science-fiction.