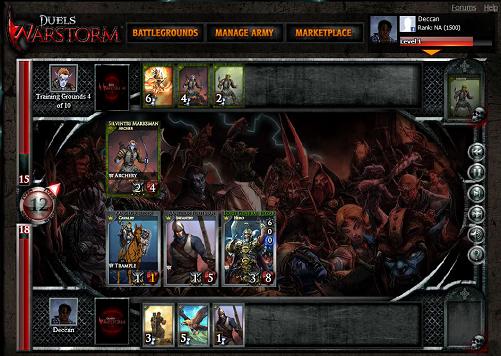 Barely two weeks ago I wrote a post bemoaning the low quality of the hugely popular games on Facebook. So coming across Warstorm is kind of funny. To be fair, it's not actually on Facebook itself, though it does offer the option of signing in through that social network and using it to connect with your existing contacts. It's basically a simplified collectible card game with a focus on building and tweaking decks. The mechanics are streamlined and simple enough that the duels play out automatically and you only get to watch what happens. All of the decision-making takes place only while constructing decks.
The game itself is free to sign up for and to play, and there are single-player missions to do that will earn you packs of cards as rewards. But if you want the really good cards you'll have to pony some real, hard cash. It's pretty obvious that this is an absolute necessity if you want to have any hope at all at competing against other players. For example, two cards can have the exact same statistics, but the good one will have a drastically lower playing cost than the bad one. No prizes for guessing that the good cards only come from the packs that you have to pay cash for, as opposed to the free "Novice" packs that you get for completing in-game objectives.
It's not a bad little game but it won't win any prizes against the real CCGs. I notice that Magic: The Gathering is enjoying a bit of a revival recently, probably due to the release of the Xbox Live Arcade version of the game with pre-made decks. So you want to have a small taste of what CCGs are like without needing to pay any money upfront or are just feeling a little bit nostalgic about your Magic playing days, checking Warstorm out won't be a bad idea at all.