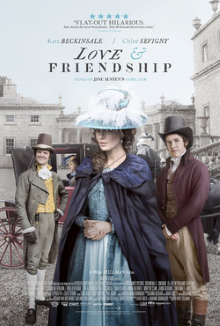 We've been on a bit of roll lately in watching period British productions, starting with the famous 1995 BBC production of Pride & Prejudice and now moving onto Downton Abbey. Due to how much my wife turned out to love them, I thought that this recent adaptation of yet another Jane Austen work would slot right in. Note that this is actually an adaptation of the novel Lady Susan and not Love & Freindship.
The recently widowed Lady Susan is turned out of the house of the married Lord Manwaring due to their affair together. She sends her daughter Frederica to a boarding school while she sets her sights on Reginald DeCourcy, the brother of the wife of her own brother-in-law. With the assistance of her friend Alicia Johnson, her plan seems to be to marry DeCourcy for his money and have her daughter marry the rich but stupid James Martin, all the while keeping up her illicit relationship with Lord Manwaring. Forewarned by her unsavory reputation, the other DeCourcy family members strive to sabotage this relationship while championing Frederica who turns out to be a victimized young girl completely unlike her mother.
The film is structured much like a play, complete with inter-titles and a dramatis personæ to help introduce its large cast of characters. I suppose that's meant to help those who are already familiar with the base material to quickly get up to speed with who's who. To the rest of us, this exposition of character names, titles and their relationships amounts to an info-bomb that makes it hard to become immersed in the story. This sort of presentation may be stylistically cute but I think a more conventional one would have worked better. It also contributes to this feeling a lot like a made for television movie rather than the feature film it is. In my opinion, a typical episode of Downton Abbey looks more opulent than this modest production.
Still, look part these faults and this is certainly an interesting film. It's highly unusual to have a character as manipulative and malevolent as Lady Susan as the protagonist in any medium, let alone a period film, and there's no doubt that she takes center stage here, played by Kate Beckinsale. She uses her wiles to gain control of Reginald, openly states to her friend that she has the hots for Lord Manwaring and cruelly abuses her daughter. She is absolutely shameless and somehow the social decorum at the time prevents others from openly speaking out against her. There is plenty of fast paced conversations in here as Susan talks circles around everyone else and twists everything in her favor. I'm not quite satisfied with how the film finagles a good ending for everyone including even Susan as it seems to come out of the blue. I have to concede that it does avoid having Susan get her comeuppance as you might expect in most films and that is once again very unusual.
In between the witty dialogue and the comic relief provided by Martin, Love & Friendship offers decent entertainment though those who were expecting a romance might be disappointed. It's also pretty cool to watch an adaptation of one of Austen's lesser known works. Log this into the okay but not exceptional category.