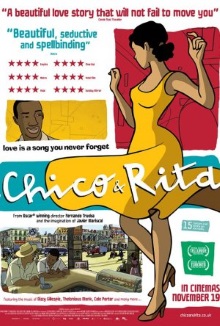 This one is a mostly Spanish language animated film that is credited to a trio of directors who are probably little known outside of Spain. As usual for animated films, my wife picked this one and she must be glad for it since music figures heavily in it, especially the music of Cuba and the way it came to influence the world of jazz. It's also an animated film that is definitely not kid-friendly since it is unashamedly erotic. Together, these elements make this a rather unique and interesting film.
The story runs from the late 1940s to the present day. Chico is an up-and-coming young pianist and composer in Havana, Cuba when he sees the beautiful Rita performing on stage and falls in love with her instantly. Realizing that she would be the perfect singer to team up with him for a music competition that he hopes to win, he and his best friend and agent Ramón doggedly pursue her until she agrees. Thus begins a tumultuous on-again, off-again love affair that would span decades while Rita eventually becomes a star in Hollywood and Chico becomes a touring musician.
The cell-shaded art style used is very simple and similar to four-color comics but the use of great music and an excellent grasp of motion makes the film come alive. Rita dancing to Chico's piana-playing while her the skirt of her plain dress swirls around her to expose her legs is seriously one of the sexiest scenes I've watched in any film all year. It also excels in conveying a sense of place. The opening shot of a bird's eye view of Havana is full of jaw-dropping detail. Then it moves to the streets but you almost feel the city thrumming like a live wire under your fingertips. Watching the bands play and the people dance, you're convinced that Havana is the most happening, coolest place on Earth in the mid-twentieth century.
I know little about music but even a philistine like can appreciate how its treatment of and veneration towards jazz is something special. I have no idea who the voice actress for Rita is, but her vocals as the ultimate torch singer is amazing. As for the love story, I'm pleased that it has up and down periods that are plausible for two passionate people in the entertainment business but I'm disappointed by the trite ending. One fascinating side-plot in the film is how despite all of her fame and success, as a black woman Rita still doesn't get the full measure of respect that she deserves. Sadly the reality is even worse than what is portrayed here. I'm pretty sure that no black woman ever appeared as a leading lady in a Hollywood film acting opposite Marlon Brando.
Since Cuba is now opening up again with the normalization of ties with the United States, Chico and Rita also happens to be a very timely reminder of the rich cultural history of this island nation and my wife in particular was surprised at how developed Havana looked even in the 1950s. Overall this is a delightful gem of a film that punches way above its weight class. Highly recommended.