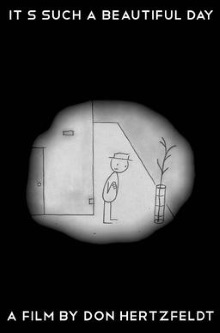 After two beefy films, I thought I'd end the week with lighter fare. This one is apparently a collection of three short films that were originally made and released independently but it's clear that they were meant to be seen together. What's remarkable is that they were mostly made by one single person, Don Hertzfeldt, who seems to have written, drawn and voice acted almost everything by himself.
Bill is a man who seems to be alienated from everyone around him and suffers from a seemingly terminal illness. During his waking hours he perceives himself as living in a loop of repetitive actions while his sleep is plagued by strange dreams that eventually bleed into reality. He tries to reconnect with his ex-girlfriend who is clearly nervous about him. When his illness takes a serious turn, he is hospitalized for some time, yet he fails to die, forcing his relatives to waste money on his funeral preparations. He reflects on his family history who seem to have a tendency to die from being run over by a train and his childhood. Particular emphasis is placed on how his mother raised by herself after his father left. After he leaves the hospital, he gradually starts losing his memories though he isn't immediately aware of it and finds himself driving endlessly to get away from something indefinable.
The film uses only line drawings and stick figures, complemented by segments of real-life video that are deliberately grainy, so it's not exactly a beautiful work of art. Hertzfeldt however manages to convey plenty of emotion through these simple animations and his deadpan delivery of the narration creates a darkly humorous effect. I also liked the psychedelic effect of the video images and the writing as a whole with how it uses whimsy to contrast the overall depressive tone. I think it compares well against works like Richard Linklater's Waking Life, which I bounced off of due to it being overly ambitious and complicated. Even if parts of It's Such a Beautiful Day aren't too original, I had no trouble following it and being moved by Bill's life.
That said, some critics have been calling this one of the best animated films ever made which seems overenthusiastic. I'm not even sure that Hertzfeldt is a good animator given how simple the art here is. He seems to be a good storytelller and perhaps a decent writer, making this an interesting film to watch but I'd want to see better art to laud him as a great artist.