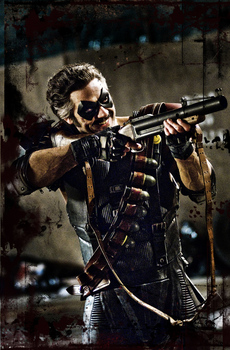 While I generally leave most superhero movie news to The Superheroes Base, I felt that Watchmen deserves a special note here. The movie adaptation to be directed by Zach Snyder, who also directed the movie version of Frank Miller's 300, is still at least a year away but the release of the photographs of the main characters has me psyched like few movies have. Pictured above is the Comedian, who is sort of a melange of DC's Joker and Marvel's The Punisher. Note his crazed grin and the yellow happy face badge on his shoulder. It's details like this that make me hope Snyder that will do his best to be as faithful to the original graphic novel as possible.
The other photographs on the site are from top to bottom: the Nite-Owl, who is a sort of Batman with high-tech gadgets and vehicles; Ozymandias, who represents the peak of humanly possible perfection in both physical and mental abilities; Rorscharch, who is inspired by Steve Ditko's Objectivist superhero The Question and is every bit as psychotic as the criminals he hunts and the Silk Spectre. I'm not sure which Spectre the photo represents though, since in the comics the title is held by a mother and then passed down to her daughter. The most glaring omission here is the god-like Doctor Manhattan, the only one among them who actually has superpowers.
Watchmen is worthy of special attention here because it is one of the very few comic books that have transcended its superhero genre to be recognized as a genuine piece of art. It is the only comic to have won a Hugo Award and the only comic to have been included in Time Magazine's list of the 100 best English-language novels. It tells a dark story that bring superheroes down to the messy, grimy and morally ambiguous real world. My only worry is that the short length of a movie adaptation wouldn't do the story justice. Please get and read the comic if you can. It will be worth your time.