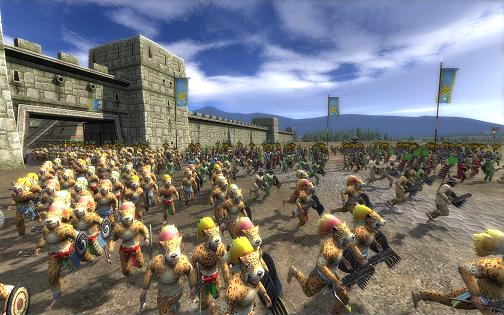 Okay, I've officially given up on finishing the Americas campaign of the Kingdoms expansion for Medieval 2. Mainly because I've just discovered that as New Spain, you really have only one option when conquering a native city: exterminate them all. Sure, the game presents you with the additional options of either conquering the city (relatively) peacefully or looting it for all it's worth, but if you actually choose any of those two options you'll just end up with a huge city full of enraged native Americans that you'd need a full stack of troops to garrison just to keep the rioting under control.
Normally, having a large population should at least confer advantages in the form of a larger tax base, making a populous city a more valuable source of income. In this campaign, however, I haven't been able to see any noticeable increase in revenue due to a larger population, which makes exterminating them all the only viable option. Since games are all about having multiple choices and options, each with its own set of advantages and disadvantages, a choice that is really no choice at all is a cardinal sin.
In my game, I've been mostly looting the cities I've captured, which has caused my offensive campaign to be bogged down by the need to allocate the majority of my troops to police duty. I could "cheat" by completely abandoning the cities to the rioters so that they rebel and then move back in with my troops to conquer them all over again, only this time choosing to kill everyone, but just thinking about playing that way just takes the wind out of my sails.
So I'm done with the Americas campaign. I might come back to the other campaigns in the expansion, but after this, it's likely to be later rather than sooner. In the meantime, I have plenty of other games to play.