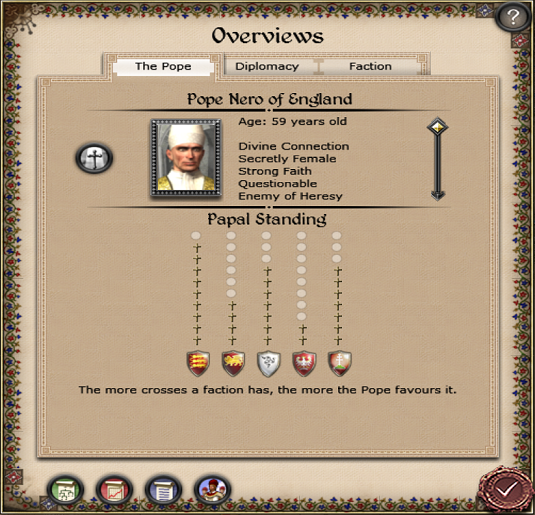 I finally finished my epic campaign as England in Medieval 2. Boy, did that take longer than I expected. The next game on my play queue is the Enhanced Edition of The Witcher. Since it might take a while for me to get to writing a full review of Medieval 2, here's a screenshot of it showing my English pope who is secretly female!
Religion plays a fairly big role in the game. The nations are divided into three different religions: Catholic, Orthodox and Islamic. In addition, there are heretics and pagans, both of which are bad from a gameplay perspective. Basically, if you play a Catholic faction and attempt to conquer a region that isn't Catholic, you're going to have huge Public Order issues. Heretics are particularly bad in that even a very small percentage of them in a given population will cause tons of unhappiness all around. In order to get around this, you need to recruit and send priests (or imams in the case of the Islamic nations) to the regions that you intend to conquer and convert their population to your own religion. Here's a picture of my God squad busy turning the Middle East from 100% Muslim to 100% Catholic.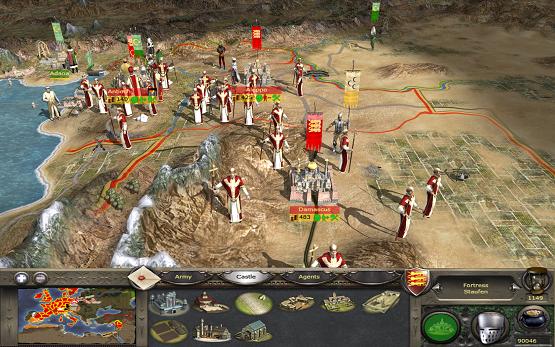 Catholic factions (including England, since King Henry VIII only broke ties with Rome in 1534 and the game takes place from roughly the 12th to 15th century) are also hampered in their plans of conquest by the Pope who hates it when Catholic factions fight each other. If you annoy him too much, he might excommunicate your faction, which really makes your people mad. Fortunately, he can be bribed with money and lands. He also likes it when you build lots of cathedrals all over the map. Orthodox and Islamic nations don't have the equivalent of a Pope so they can freely fight whomever they want. A new Pope is chosen whenever the old one dies by the College of Cardinals, which is essentially made up of the Catholic priests with the highest piety scores. Since priests can get the "Secretly Female" trait randomly when recruited, getting her to become Pope was a simply a matter of levelling up her piety by converting lots of heathens to Catholicism.
Catholic nations can also ask the Pope to call for a Crusade while Islamic nations can call for a Jihad whenever they want. They work the same way in that they target a specific city owned by an enemy religion, allowing the formation of special Crusader / Jihadist armies to have formed to conquer that city. These armies benefit from special bonuses including greater movement speed on the strategic map, being free from upkeep costs and being able to recruit special reinforcement units while in the field. The caveat however is that they need to make progress towards the targeted city every turn or units will begin to desert from the army.