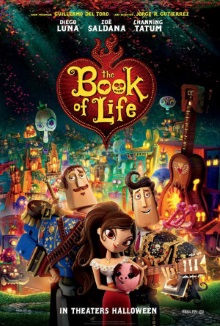 After a few fairly heavyweight films, I thought we'd take a breather with some lighter, more recent fare. Although it's distributed by 20th Century Fox, it was made by a newish animation studio called Reel FX and appears to be the first major feature made by its director Jorge Gutierrez.
Given this lack of a track record and since this is a Hollywood cartoon, our expectations were duly adjusted downwards. At first, it seemed that even these modest expectations would be disappointed by an opening, involving a school bus of school kids visiting a museum, that is as generic as anything you can imagine. But then it turns out that this is just a frame for the real story and it was a real pleasure to realize that this movie would be drawing inspiration from Mexican folklore. Interestingly the art style also switches to using animated wooden puppets, presumably because this is what the museum guide uses to tell the story to the children. Yes, this is the kind of surprise we get because we tend to go into movies knowing next to nothing about them.
Still the movie remains a fairly conventional one, being about two childhood best friends fighting over a girl, for the most part. It only really picks up once the action moves to the lands of the dead. When this happens, the already cool art style goes completely over the top with a riot of colors and a festive air. It also turns out that interacting with long dead relatives is a lot more fun than living characters who are forced into the usual stereotypical roles. The story takes a somewhat darker turn than I would expect of a mainstream movie too. This is a film about the Mexican Day of the Dead after all so it's only fitting that there is plenty of death to go around.
One choice with regards to the music that I found disappointing is the use of Mexicanized versions of some fairly well-known American songs. You'd think that with the growing population of Hispanics in the US, it would be okay to use at least some songs that completely in Spanish. In general, the same kind of light touch holds true for the whole movie. It feels like a mainstream American movie that borrows some elements of Mexican culture for flavor, which is still pretty good because it's such a novelty for me. But it never gets even close to feeling authentic.
Overall, I found this to be a pretty average cartoon. Its character designs and visuals make it somewhat interesting and its use of Mexican folklore is sufficient to pique my interest. But everything else is generic and unremarkable. Children may like it I suppose, but there's nothing very worthwhile here for adults.