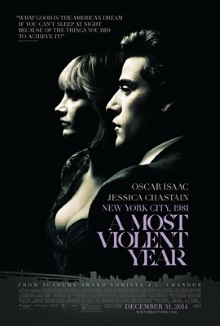 It seems like we've been seeing actor Oscar Isaac everywhere these days, beginning in Inside Llewyn Davis last year, David Simon's excellent miniseries Show Me a Hero recently and of course the new Star Wars. But what made me interested in this film is that it's the third feature film by J.C. Chandor and that both of his previous works were amazing. It helps as well that it made it onto the best of the year lists of multiple critics at the end of last year.
In this story set in the 1980s, Isaac stars as Abel Morales, the owner of an up-and-coming transport company in New York. Just as his business is booming however he faces numerous obstacles including a spate of hijackings that target his trucks and harassment at his house which he suspects may be orchestrated by his competitors. His wife, the daughter of a neighborhood gangster, urges him to fight violence with violence. Even the head of the Teamsters union who provides his drivers urge him to arm his drivers with guns. But Morales is cognizant that his company is under the scrutiny of the government who is investigating the corruption-prone industry and is determined to be successful without breaking the law.
A Most Violent Year often feels like it ought to be based on a true story. It's full of little details, like Morales' buying an oil terminal from a group of Jewish Hasidim and the links between the transport industry in New York and the Italian Mafia, that feel too authentic to be made up. As far as I can tell though Chandor seems to have written the story himself though he has obviously drawn it from his own knowledge. This may explain why while the individual details are interesting and feel real, they never coalesce into a satisfying whole.
Similarly the film plays with a variety of themes with perhaps the most fascinating one being that Morales' wife accuses him of lacking the strength to deal with their problems head-on while he believes that true strength lies in not having to stoop to the level of the gangster. A side-story compares Morale's own success with the way that the life of one of his drivers goes off the rails, despite their shared beginnings as poor Latin Americans. Unfortunately the story arcs lack the dramatic power to really justify this being made into a film as they aren't developed to their fullest extent. Both Isaac and Jessica Chastain, who stars as his character's wife, are solid actors but it doesn't look like this script gives them enough to work with and so none of the performances stand out.
All this means that this film is competently made, but is overall pretty mediocre and probably not worth watching. It's hard to believe that it would have earned much attention if not for the success of the director's previous two films and the reputation of its cast members.