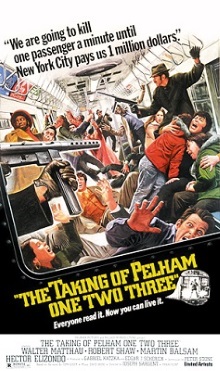 The Taking of Pelham 123 doesn't quite qualify as one of the best films ever made and doesn't even boast a director or any actors who would be household names today, though if you're around my age you might recognize some faces from minor roles in a wide variety of films and television shows. But when Hollywood decides it's worth remaking and it has a 100% rating on Rotten Tomatoes, you know it's something special.
As the subway staff in this film explains, the New York City Subway system identifies individual trains first by the station that it leaves from and then by the time of its departure. It just so happens that the train leaving Pelham station one day at 1:23 pm is targeted by four heavily armed criminals who seek to hold its passengers hostage. They're led by a very articulate English mercenary and call each other using color-based code names, a cool trick that I now realize Quentin Tarantino stole for Reservoir Dogs. Nothing complex here, all they want is money and it's the job of Transit Authority police lieutenant Zachary Garber to make sure that no one is killed.
With only four criminals and no disposable fodder, this obviously can't be an action movie. Instead this film builds up the suspense as we watch how the gang carries out carefully laid plans in meticulous detail. In fact they act so coolly and so professionally that we're almost taken by surprise, along with the hostages, that the group really are holding a subway car for ransom. The craftsmanship of this film is superb and the colors are drawn from the kind of warm palette that instantly reminds us that this was shot in the '70s. Though the threat is deadly serious, there's also an undercurrent of dour humor throughout the film that provides extra entertainment value. As the transit police complain, "why couldn't they just take a plane hostage like everyone else?"
Perhaps my favorite thing about this film is that every character in here feels like a real person, even the minor supporting characters. Partly this is because the film avoids filling the fictional world with young, beautiful people. Even the better looking actors like Robert Shaw who plays the slick leader of the hijackers, spend most of their time under awkward disguises. I also enjoyed how surly and unpleasant so many of the characters are. It just feels so very New York! Dick O'Neill might be a touch overboard in how uncooperative he is as one of the subway system's managers, but I found that having him being so intent on doing his job and annoyed that the hostage situation is ruining his work schedule is both humorous and realistic in how pedestrian this attitude is. Another bit of humor, this time unintended, is how the criminals ask for only one million dollars. After Austin Powers, it's impossible not to laugh at that.
Like everyone else, my wife and I sometimes enjoy watching films that are entertaining without being too cerebral because it has to be admitted that many of the more artistic film require plenty of concentration and commitment. The Taking of Pelham 123 is just the right ticket for lighter moments like this. It's solidly made, it has a great sense of tension, and most of all it's plausible enough that it doesn't require you to turn off your brain while you watch it.