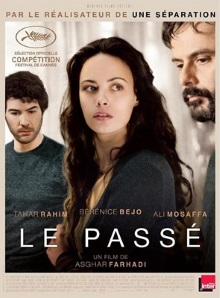 Director Asghar Farhadi's A Separation and About Elly are two of the best dramas I've watched in recent years. As such it was with some anticipation that I watched this, though it isn't as notable as the previous two films. It's also different in that it's set in France and has a cast with a broad range of nationalities.
Ahmad arrives in France from Iran after a period of absence to finalize divorce proceedings with Marie. He learns that Marie has been having trouble with the eldest daughter Lucie and promises to speak to her. When they arrive at the house, he sees two children playing in the yard, one of whom is his own daughter and the other is a boy that he assumes is a friend. It is only when Marie puts him and the boy up in the same room that he realizes that his ex-wife is currently in a relationship with another man, Samir, and that this is his son. Lucie ends up coming up home very late and when Ahmad has a talk with her he learns that she objects to her mother's relationship with Samir. She claims that Samir's current wife is in a coma due to a suicide attempt and that the attempt is related to finding out about Samir and Marie's illicit relationship. The audience also implicitly discovers that Lucie is the daughter of Marie with a previous partner who is now in Brussels and is not Ahmad's own daughter.
While Farhadi's ability to spin ordinary family drama into an engrossing narrative remains unparalleled, The Past is a decidedly less complex and less ambitious work than its two predecessors. Set as it is in France, there's no scope here for offering an aperçu of Iranian society, making it more mundane and less rich. I do note that the different characters come from vastly different cultural milieus and that several different languages are spoken in this film including Persian, French and Italian. While the actor who plays Ahmad, Ali Mosaffa, is indeed Iranian, the actor who plays Samir, Tahar Rahim, is French-Algerian.  The actress who plays Marie, Bérénice Bejo, is French-Argentine. Relying as we do solely on the English subtitles, I suspect that much of the cultural subtleties is lost in translation.
Given its title, it's easy enough to work out what the themes here are. The pattern is in fact a bit too obvious as the various threads coalesce around understanding just what caused Samir's wife to commit suicide. It turns out that just about every other character has some part to play in this tragedy and the past is a complex, multi-layered thing. Not a bad theme to craft a film around but the conclusion here seems trite. I think Farhadi even cheats a bit with the character of Lucie. He suggests at first that Samir might have done something to make Lucie detest him but then turns that right around. I'm not sure that his behavior in her early scenes are consistent with what she really feels as revealed later. The best bit of the film for me are actually working out the relationships between the various characters based on their conversations.
This means that The Past is definitely a second tier Farhadi film. It remains a fine drama and I remain impressed by how smoothly the director pulls us into the complicated relationships of multiple character.