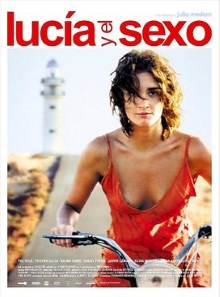 Sex and Lucia has a bit of a lurid reputation on the Internet due to the copious nudity in it but I understand that it's a favorite of many international cinephiles and other artsy folk. It has also won enough awards to be worth taking seriously.
The story is told along two parallel narrative tracks. In the notional present, a young woman Lucia's relationship with her writer boyfriend Lorenzo is on the verge of breakdown due to his depression. She rushes home from work one evening to find him missing and receives a call from the police. Concluding that he has died, she flees to an island to calm herself. Six years ago, Lorenzo visited this same island and had sex with a woman he doesn't know, Elena. Shortly afterwards his relationship with Lucia begins when she introduced herself to him and confessed that she has been stalking him ever since she fell in love with him after reading his work. At the same it is revealed that Elena became pregnant and gave birth to a daughter. Though she tried for a while to search for Lorenzo, she failed to find him and settled down to a separate life with her husband. Their lives collide again when Lorenzo's agent tells him that he knows about Elena and her daughter Luna. He arranges for him to meet Luna without Elana's knowledge at a park where he befriends her babysitter Belén.
Despite the copious nudity and the film's shocking willingness to put penises on camera, Sex and Lucia never feels pornographic. There's plenty of eroticism but between the film's intense self-awareness and how Lorenzo's writing is used as a kind of narration, the sex never feels gratuitous or exploitative. The various performers must have placed a great deal of trust in director Julio Medem to work on this project and they must have been pleased with how tasteful and sophisticated this ended up being. Even when it comes to fetishes and secret fantasies, the tone here is sex positive. Sex is portrayed here as being a joyful, wonderful thing for both partners, free of guilt or moral baggage. To some extent, the film even equates sex with love but I'm not sure that this is particularly strong as themes go.
I enjoyed the magical realism aspect of the film as well as Lorenzo's stories for Luna. I did not like how it is revealed that everyone's lives are tied together through Lorenzo. In fact though the title and the beginning of the film suggests that we see things through Lucia's perspective, Lorenzo seems to be the most important character. I think having every character being linked together through coincidence is too convenient and isn't even necessary for the film to feel satisfactory. Overall I found this to an okay film that makes good use of sex scenes but it's nowhere as good as I expected it to be and I doubt it has any real insights to offer.