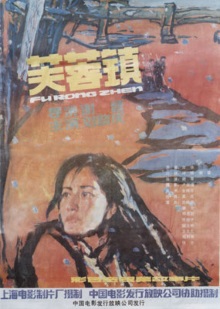 This is one of the oldest Chinese films I've watched yet and I think the earliest one I've seen about the Cultural Revolution. In fact this was made so early that I was taken aback by what I perceived to be a very vicious critique of Communism and wondered how this could possibly have been allowed. I believe I managed to work out the logic in it later in the film however.
Hibiscus Town is the name of the small village in which Hu Yuyin lives with her husband Li Guigui. Despite the poverty of the area, the couple's small stall does a thriving business due to their hard work and they earn enough money to build a nice new house. Their sucess arouses the envy of others however and as the political climate shifts Li Guoxiang, who runs the local government-owned restaurant, and Wang Qiushe, a poor and lazy peasant, condemn the couple as capitalistic rich peasants. Their friends who are also party cadres, such as Li Mangeng, who once wished to marry Yuyin but chose the Communist Party over her instead, and Gu Yanshan, the granary director who sells her the broken rice she uses, are unable to protect them and they lose the new house and their business. While Yuyin is hiding out with relatives, the authorities come to arrest her husband who is then executed for attempting to kill Guoxiang. She is then assigned to the lowly job of sweeping the town's streets along with Qin Shutian, a musician condemned long ago for being bourgeois.
Though 1986 was a long time ago by now this film's style seems much older even than that. Not only is every character instantly recognizable as good or bad but they even fall into neat archetypes. As such the storytelling is blatantly obvious. We know that Yuyin and Guigui are hardworking because we see them sweating profusely as they carry heavy loads in the course of their work. Similarly we know that Quishe is lazy because he is asleep when people come calling, his house is in a constant state of disrepair and he is always dirty and unkempt. There's a certain retro charm in this style of filmmaking and it recalls the melodramas of the early Hollywood era but such simple storytelling techniques have been left behind for good reason. This also makes it a fairly predictable film though there are at least some interesting plot turns in the latter half as Yuyin picks up the pieces of her life. The acting however is top notch, the town is suitably picturesque and I got a real kick in seeing Jiang Wen in what must be one of his earliest roles.
Of course the most interesting part of this film is what appears to be a scathing critique of Communism itself. Yuyin and her husband set up a thriving business using broken rice that would ordinarily be used to feed animals. Meanwhile no one patronizes Li Guoxiang's nearby government-owned restaurant due to its poor quality so she starts a campaign of harassment against them by demanding to see their business license. The mere possession of a large amount of cash is sufficient evidence of guilt. The laziest villager eventually rises to be secretary of the local branch of the Communist Party. It's not very original as such put-downs go but it does seem unusually brave for its time and the film was even regarded as a great success when it was released. However as the ending makes clear, the film saves face for the Chinese Communist Party by laying the blame on bad leaders who hijacked the Cultural Revolution and showing that justice is served to all parties in the end. Given that this doesn't invalidate the basic premise that Communism makes villains out of hardworking entrepreneurs, I find the double-think required to square this circle absolutely fascinating.
While I would never consider Hibiscus Town a personal favorite as it's too old-fashioned and lacks any spark of true creativity, it's easy to recognize how important it is in Chinese cinema and I'd recommend it for that alone. Sadly even though it pulls its punches in the end, I doubt that anything as openly challenging of the Communist Party like this can be allowed to be made in today's China.