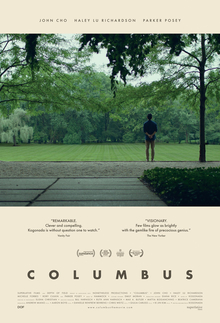 I knew of this as recommendations from a couple of different sources and so I added it to my list without knowing anything about it other than its title. Within several minutes of it starting, I asked my wife, "so is this a film about architecture?" And I was totally right!
Jin, a man raised as an American but of Korean ethnicity, finds himself in the small town of Columbus, Indiana. His father, a professor in architecture of some renown, was in town to give a talk but fell into a coma. As his father's condition is too unstable for him to be moved, Jin is stuck in the town away from his job in Seoul as he waits for either his father to get better or to die. Casey, a young local resident of the town, meets Jin as he wandering aimlessly. She turns out to be architecture nerd who was planning to go to his father's talk. As they strike up an unlikely friendship, Jin speaks about how his father's obsession with architecture has left him with little time to spare for his family members, leading to the father and son being estranged. Meanwhile Casey opens up about being stuck in the small town due to her family's limited means and having to help her mother with her meth addiction. She reveals that her recent love of the Modernist architecture in the town helped her to see past her problems.
As my wife immediately noted, this film feels something like a companion piece to Paterson. Both are quiet films set in small towns that are about art. As befits its theme, this film features plenty of picturesque shots of the buildings in the town, which as the characters note is something of a Mecca for Modernist architects. The tone is contemplative as the audience is invited to soak in the atmosphere around these buildings and not even dialogue is allowed to disturb the experience. The conversations and what story there is progress in a naturalistic fashion in stops and starts, without clear, neat bookends framing them. The unconventional nature of the film and the fresh, interesting relationships prevent it from falling into the trap of the usual, familiar tropes. It's heartening to watch this as a purely platonic friendship developing between an older Asian man and a younger white girl due to an accident of circumstance.
Unfortunately while first-time director Kogonada tries his best, the results fall far short of what Jim Jarmusch achieved in Paterson. Great directors create emptiness in their films which are filled in by the audience themselves by a powerful, moving sense of the sublime. By contrast, the empty spaces in Columbus are filled in with, well, nothing much really. Its shots of buildings and a landscaped garden are variously pretty, serene, interesting and attractive but I couldn't say that they moved me on a fundamental level. It's missing the deep sense of beauty that flows with seemingly effortless ease in Paterson. Perhaps architecture really is something that you need to experience in person to get the full effect of. But it could also be that the director simply isn't creative enough to bring out what's special about these buildings.
Based on the above, I judge this to be a good film but I already know that it won't be one of my favorite films of the year. As an aside, it's cool to see John Cho stretch out from his usual roles and I'm amused at the thought that this film will likely have an explosive effect on tourism in the town of Columbus.