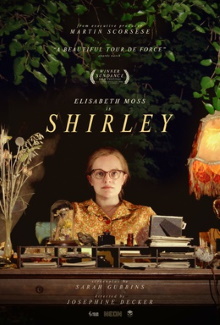 Elizabeth Moss once again impresses in an independent film that even if it isn't quite great, is at least highly interesting. Shirley Jackson is of course a real American novelist and while the characters and circumstances of this film are based on her life, I don't believe that this is intended to be a biography and should be thought of as fictional. Instead this is as much about a young couple who have come with Shirley and her husband as Shirley herself and, in line with the other works that Moss has recently appeared in, is about the woman's place in a man's world.
The newly graduated Fred Nemser and his new wife Rose arrive at Bennington College where Fred is to start working for professor Stanley Hyman. Stanley puts them up at his house where he lives with his wife, the noted author Shirley Jackson. Though Rose is a fan of Shirley's writing, Shirley's acerbic personality soon puts her off especially when Shirley reveals that Rose is pregnant though she has not announced it to everyone. The young couple are also dismayed when Stanley asks Rose to help out as the housekeeper and carer for Shirley who is an alcoholic and has not stepped out of the house for years. As the couple settle in and Rose gives up on trying to take classes to work full time in the house, Shirley starts writing a new novel about a female student who recently disappeared from campus. Eventually after Rose learns more about the toxic relationship between Shirley and Stanley and her own husband Fred grows more distant from her as he attempts to be a full professor, she does become friends with Shirley and they even flirt with each other.
Most biographies about artists and especially authors follow a familiar, established pattern and take great delight in playing up their mental issues and insecurities. Though Shirley has severe psychological problems as shown here and loves to tease others about being a witch, this is not a biography and as such the film is not really about her. Central to this film is the relationship between Shirley and Stanley, which can be interpreted as being mutually parasitic. Stanley virtually worships his wife's writing talent but at the same time utterly disparages her ability to function as a normal human being so that she is completely dependent on him. Meanwhile he openly has affairs with others on campus that she is forced to tolerate and of course having the Nemsers move in with them is part of his plan to make life comfortable for themselves. As Rose learns more about their relationship, she begins to see in Shirley's seeming madness perhaps a kind of rebellion and reaction against the strait-jacked that she has forced into by what was then still a male-dominated society. After all, even whether or not one of her own pieces of writing is any good is up to Stanley's judgment. Note that all of this is fictional and the Nemsers are not real people as the film doesn't show that the Hymans had children of their own during this time.
The film's themes are accentuated and even made otherworldly by the two women's quest to discover whatever happened with the missing girl and Shirley's witchcraft. As there are few real clues as to the missing Paula's fate, the pair imagine various scenarios but we understand that this is really about their own situations that they find themselves trapped in. Shirley uses her own reputation as a witch to make eerie predictions and even scare her husband's mistress though this is most likely just due to her strong powers of observation and intuition at work. It does play well with her imagining different situations and outcomes as part of her creative process of writing. I also like that Stanley is very inappropriately creepy and gropey but as he doesn't go overboard is actually perceived by some other women as being charming. It's just another way of showing what is normal in that era but unacceptable today.
Overall this is a strong independent film and I note that Moss seems to be making an entire career out of portraying many different forms of female empowerment, especially as she also serves as a producer here. I like this for its originality though the payoff at the end seems a little weak to me. It's not something that personally speaks to me very strongly but it is well worth watching.