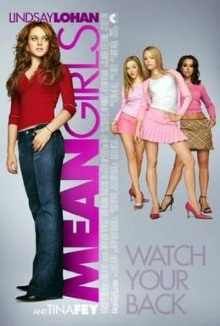 Today Lindsay Lohan is perhaps the poster girl for the teen idol whose career and life crashes and burns hard but there was indeed a time when she was Hollywood's it-girl and Mean Girls is probably her best and most memorable role. I didn't watch it back in the day and always hesitated about putting it on the watch list because it's isn't exactly acknowledged as a great film. I eventually caved in when some Broken Forum members named it as one of the best comedies of the new millennium. Plus we've watched so many films over the past couple of years that we've really been running down the list.
Cady Heron, a sixteen-year-old girl who has been homeschooled her whole life, attends public school for the first time. The culture shock to me is immense and she finds it impossible to make friends until two misfits take her under their wing: Janis Ian and Damian Leigh. They give her a run down of the various cliques in school, especially the Plastics, consisting of the hottest and most popular girls and led by Regina George. The Plastics however take note that Cady is both new and hot herself and invites her to join them. Janis encourages this to find a way to enact revenge on Regina for past grievances. Even as Cady pulls off various pranks to undermine Regina, she transforms more and more into one of the Plastics for real, eventually supplanting Regina and becoming the Queen Bee of the school herself. At the same time, she even pretends to be dumber at math than she really is in order to spend more time with Regina's ex-boyfriend.
To a large extent, Mean Girls is fairly generic, unoriginal fluff. The notion of high school cliques is not only familiar but, worse, based on caricatures that we now recognize were never really true. This film adds a few twists like how Cady, despite being white, is more familiar with growing up in Africa than in the US, and some ethnic diversity but it's basically still the same formula. One old trope that especially annoyed me here is that the main character always deserves and gets a hot romantic partner. Lindsay Lohan as Cady may well be the hottest of the Plastics but I found Janis Ian, played by Lizzy Caplan, and her teacher Ms. Norbury, played by Tina Fey, to be more interesting characters. I think a lot of credit has to go to Fey for writing the screenplay and, as I understand it, coming up with the idea to make this film in the first place.
So this is definitely not a great film nor even a particularly novel one. Still there's a lot of fun in watching the bitchy girl politics and I also enjoyed the exasperation of the responsible adults. It's decent light entertainment and is good for a few laughs but I don't think it's anything close to being a cultural phenomenon.