Sex Cards in The Witcher
Wednesday, October 29, 2008 18:49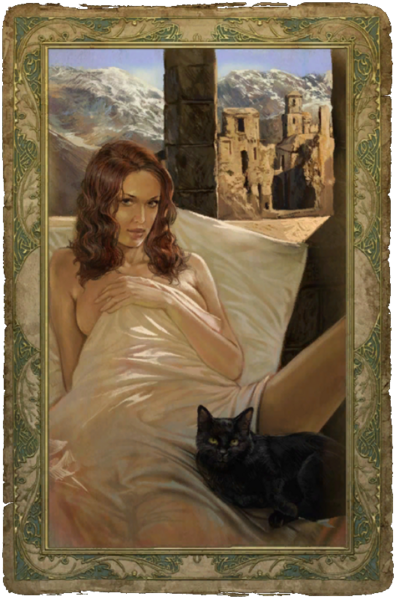 I'm now playing the recently released Enhanced Edition of The Witcher. I'd originally bought the game at the beginning of year but put off playing it after reports came in about its lack of polish, garbly translation from the original Polish, frequent crashes and extremely long loading times. The Enhanced Edition of the game, which was made available as a free download to customers who had already purchased the original, fixes many of those problems, and I'm happy to say that even though there are still too many crashes for my comfort, I'm very happy with the game. I'll write a full review when I'm finished with it, but so far, the game easily matches Mass Effect.
One of the most controversial aspect of The Witcher are the infamous sex cards. As an M-rated game, it presents plenty of opportunities for sexual activities, and it's fair to say that the protagonist, Geralt of Rivia, is more than a bit of a ladies' man. Each time you manage to bed a lady in the game, an entry is recorded in your journal together with a "sex card" of the lady in question, something like a collectible card. I was leery of this aspect of the game at first, but after having played the game for over a week now, I have to say that it's damn refreshing to play a no-holds-barred, mature RPG that doesn't skirt around sex and morality for once.
I note however that the copy of the game I purchased in Malaysia turns out to be the U.S. version, which is censored. The original Polish and European versions of the game had uncensored sex cards and in-game textures. Of course, this being the Internet age and all, it's easy enough to get a look at the uncensored versions if you know where to look.
You can follow any responses to this entry through the
RSS 2.0
feed.
5 Responses to "Sex Cards in The Witcher"

Leave a Reply